QR CODE PAYMENT
NRSP Microfinance Bank has launched another amazing and fascinating facility/service of QR Code Payment (Quick Response Code Payment) at any merchant for its customer. Now our customers can easily process their Payment via NRSP Connect Mobile Application (Android & iOS) using "Scan to pay - UnionPay QR" option.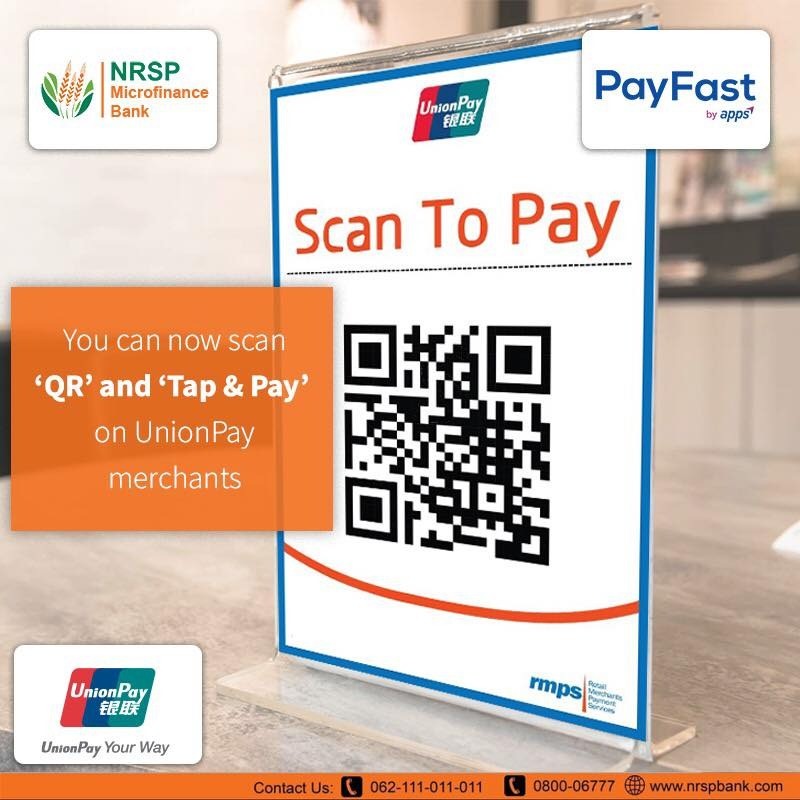 This is a step to enhance instant digital payments and provides a cashless system with more security and integrity. It has created a competitive advantage for the merchants enabling them to generate QR codes, creating partnership opportunities and digitizing payment business solutions. Furthermore, also comes an opportunity of large number of discounts on using QR payment service across Pakistan on different outlets.
Customers can avail number of benefits through UnionPay QR Code Payment such as:
Hassle free cashless payment: Pay directly from NRSP Connect App for your purchase without the hassle of carrying cash or card by simply scanning the QR code and mentioning the desire amount in the application
Instant: A quick way to directly make payment for your purchase
Wide acceptance: Payment will be accepted at vast network of UnionPay QR code enabled shops across the Pakistan
More Secure: This is a more secure mechanism to transfer your funds to the merchants.
To avail and enjoy this service, you are requested to download / update your current version of the NRSP Connect Application which is available at Play store (Links Available Below). Moreover, please note that the only UnionPay QR code having the logo of UPI will be accepted at merchants while making payments.
Find below the links to application for android and iOS:
Android
iOS
The complete user guide to enroll yourself for this service is also available for download. Further, for any assistance you can call our help line numbers 062-111 011 011 or 08000-6777(NRSP) from anywhere any time.